"Jesus is our eternal lifeboat. With His saving hand reaching out - He's calling to us, "Get in the boat!"
Jason Carroll
Senior Pastor
"Let God stir your heart, and then trust him with the details."
Mindy Carroll
Pastor & Media Coordinator
"Father God shapes the world by prayer and intercession. Our prayers outlive the lives of those who uttered them; they outlive a generation, outlive an age, outlive a world."
Frances Autry
Pastor
"People will speak of the power of Your awesome acts, And I will tell of Your greatness. They will overflow when they speak of Your great and abundant goodness And will sing joyfully of Your righteousness." Psalms 145:6-7
Will Root
Worship Pastor
"All you'll ever need: 'Now this is eternal life: that they know you, the only true God, and Jesus Christ, whom you have sent.' John 17:3"
Kimberly Root
Children & Families Pastor
"God hasn't brought us this far to only bring us this far."
Maverick Henderson
Youth Pastor
"Have faith in God in what seems impossible!"
Dinah Henderson
Youth Pastor
"Jesus is calling you to a relationship with Him."
Monique Cheatam
Middle School Youth Pastor
Sunday Services: 9:00am & 10:30am*
6550 Lapalco Blvd, Marrero, LA 70072
*Children & Nursery classes available ONLY at the 10:30 services
Office Hours: Mon-Thurs 9:00am-2:00pm
504-340-9944
Sunday messages are posted on YouTube each Tuesday at 7pm.
Special
Events
at Cornerstone
April 9
Join us for a time of worship, special presentation by our Children's Choir, and a message centered on the resurrection of Christ. Two services: 9 & 10:30am. Also bring a bag or basket for an egg hunt following second service (for ages 0-5th grade). Everyone is welcome!
April 29
6th Annual Men's Crawfish Boil. APRIL 29, 2023, 4-7pm. Prepayment of $20 per person due no later than Sunday, April 23. Ages 13 & up. Invite your friends!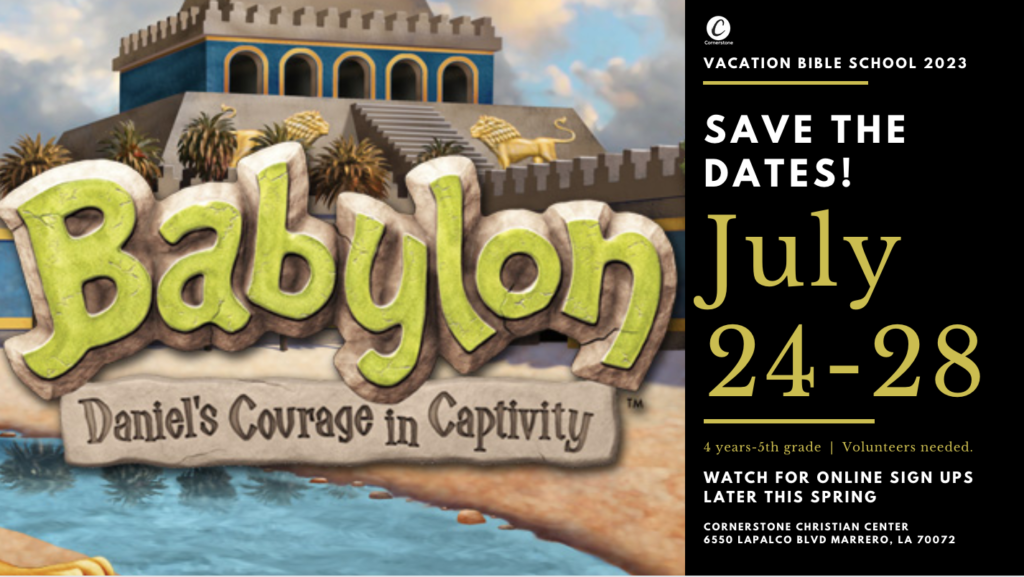 Add Your Tooltip Text Here